Tomorrow's Maps Today
World Maps is a retail and mail order business located in Kilkea, near Athy in Co. Kildare, Ireland.
Our business is to provide any maps available, no matter where on earth you are located. We can provide any map currently available .
Contact World Maps
"Tomorrow's Maps Today"
V.E. Behan,
Leinster Lodge,
Athy,
Co. Kildare,
Ireland
Tel: +353 (0)59 8631706

Mobile: 087 7912799
Email: worldmaps2020@gmail.com

Popular Wall Maps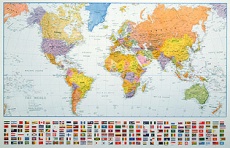 Any Map Available
World Maps are suppliers of the finest and most popular wall maps.
Our maps are ideal for schools, or any professional business, such as Travel agencies, Courier services, and Haulage companies.
Tomorrows Maps Today also make ideal presents for Business, Personal, Education and Tourism.


All our wall maps are encapsulated with a special non-glare finish (Matt Finish) which makes them easy to read from any location in your room or office.